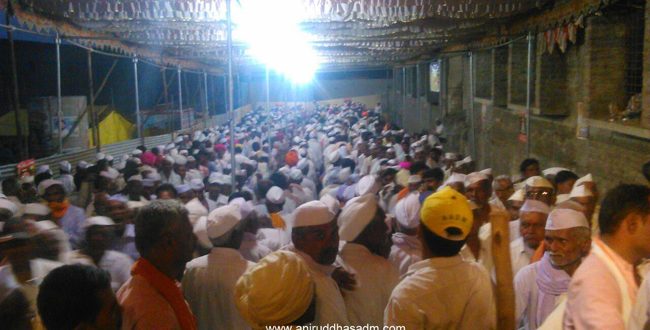 Eknath Shashthi Seva by AADM
Eknath Shashthi—- a day dedicated to Sant Eknath (1533 – 1599), a revered saint of Maharashtra. It was on this day Eknath Maharaj entered into 'Jalsamadhi ' in the River Godawari in Paithan. A prolific writer, a social reformer who revived the Bhakti Movement in Maharashtra, Eknath Maharaj had all the qualities which makes Maharashtra proud of this noble saint. No wonder that even to this day, lakhs of his devotees from nooks and corners come to Paithan chanting " Bhanudas-Eknath " and pay homage to him.
Aniruddha's Academy Of Disaster Management has been rendering Seva on Nath Shashthi day for the past several years. This year too, DMVs rendered seva on 4 days, ( 28th, 29th, 30th, 31st March 2016 ).
380 DMVS from 40 Aniruddha Upasana Centres in Maharashtra were divided into 3 main services :
1-  Managing the crowd of devotees who had come to seek 'darshan' of Samadhi of Sant Eknath.
2 – 70 DMVS were specifically alloted to manage 250 dindis (out of 400 odd dindis which were in Paithan ).
3 – Medical Seva – On a special request from the Collector's office,  8 /10 doctors from AADM Sanstha administered on the spot medicine which was provided by the Collector's Office.About 3,700 devotees were treated during the course of 4 days.
Some of the highlights of the four days Seva:
–  On the day of ' KALA' ( distribution of prasad ), the Gram Police felicitated the AADM volunteers for their "selfless and relentless service "
–  Constant announcements were made on the public address system to the devotees that they should cooperate with AADM's volunteers and take guidance.
–  Impressed by the DMVS confidence, selfless service, and alertness in handling situations , media – newspaper and TV, approached DMVs with admiration and curiosity to know more about the  Sanstha.
– Dainik Sakaal, a local daily newspaper in its 31st March issue, made a special mention about AADM and DMVs and the services carried by the Sanstha.