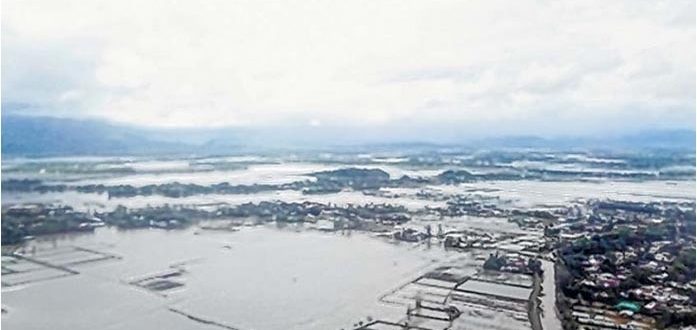 Heavy rains that lashed Manipur  State over the  last 4 to 5 days, have resulted in floods in the 4 districts of the Valley, particularly Imphal East, Imphal West and Thoubal.
A 50 feet long stretch of the eastern side bank of the Imphal River breached on impact of the ever increasing water volume at Kyamgei Muslim Oinam Loukon on the  evening of 22nd May. Besides Imphal River,  water levels of all the other major rivers like Iril River, Lilong River, Nambul River have  a risen  to alarming  levels causing  thousands of people to panic.
Schools, houses, community halls, temples, playgrounds, clubs and crematoriums which are  located along the Imphal River banks have been flooded. Incessant downpours  in the last two/three days, have forced a large number of people to move to safer places.
About  200 'paris' of paddy fields has been flooded at Uyumpok and Nungshum. Large tract of agricultural land in Khundrakpam AC has been submerged in flood water. As per the local reports, Nongsum and eight other adjoining villages in Imphal East district remained cut off from the rest of the State.
The strong water currents have left the transportation and communication disrupted in the affected areas.
Manipur irrigation and flood control minister inspected the affected areas. Government relief teams and local volunteers kept vigil to control damages.