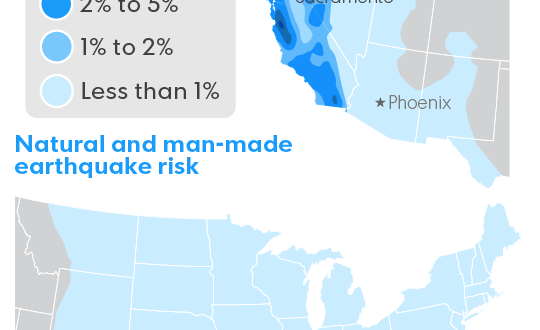 3 million Americans at risk from human-induced earthquakes this year
This is the second year that the U.S. Geological Survey (USGS) has released an earthquake forecast citing wastewater disposal from fracking as triggering the quakes. The number of Americans likely to be affected this year is lower than last year where 7 million were at risk, but despite this decrease, there is still a significant likelihood for damaging earthquakes in the U.S. in the year ahead.
Environmental groups such as the Sierra Club and the Natural Resources Defense Council want all fracking curtailed. Fracking is a process of drilling down into the earth before a high-pressure water mixture is directed at the rock to release the gas inside which is known to contaminate drinking water, pollute the air, and cause earthquakes.
The USGS report said an additional half million people face potential damage from natural earthquakes in 2017, which brings the total number of Americans at risk from both natural and human-induced earthquakes to 4 million for the year and this could increase or decrease with industry practices, which are difficult to anticipate.