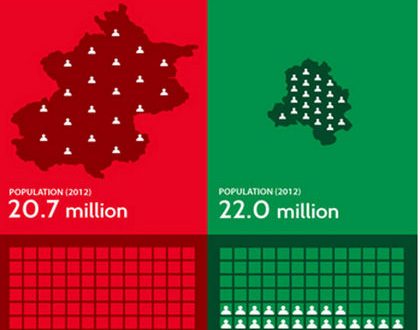 Delhi,Beijing Fighting Severe Air Pollution
Delhi was declared as the most polluted city in the world in 2015, taking over the ignoble mantle from Beijing
Delhi's population is 22 millions against 20.7 million of Beijing. But Delhi's population density is much higher at 11,297 per sq KM as against only 1,300 per sq.Km for Beijing. As a result the air pollution effect on Delhi residents is much worse.
Delhi has only 1 excellent air quality days as against 27 days per year for Beijing. Delhi has only 4 good air quality days per year as against 40 for Beijing.  This means Delhi has very high level of PM2.5 (pollution particles of size 2.5 microns and less) on many more no of days in a year as compared to Beijing.
The pollution particles of up to 2.5 microns size are considered most harmful for health. High levels of PM2.5   along with respiratory diseases are also being linked to Stroke, Alzheimer's disease, Parkinson's disease and Cancer.
General perception has been of Beijing being more polluted and yes, the smog is denser in winter, but   air quality of Delhi on average is much worse.
Beijing has 35 air quality monitoring stations. Delhi has only 11. Beijing has an alert system with many control measures in place. And its air quality is steadily improving.
Delhi is yet to implement any aggressive anti-pollution measures. Public awareness needs to be increased of the severe health risks of air pollution and they cash push the administration into effective action.