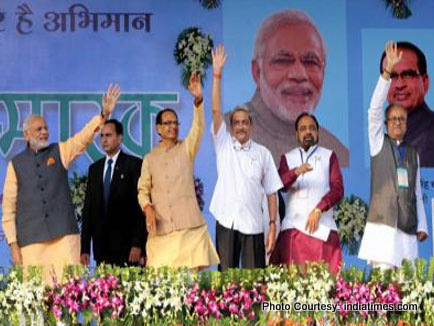 Indian Army Does Not Speak, Only Act, Says Prime Minister NarendraModi
Prime Minister Narendra Modi, while addressing ex-servicemen at the inauguration of the war memorial 'shauryasamarak' in Bhopal, Madhya Pradesh on Friday, opened with chants of "Shahidoamarraho" and "VandeMataram" and narrated the valor of Indian defense forces including the army, BSF, CRPF, Coast Guard jawans.
He asked civilians to cultivate a culture of honoring and respecting the soldier and stated that our soldiers cannot be associated only with war because they are a symbol of humanity as well.
Modi went on to cite examples of incidents when the army had helped civilians irrespective of having faced hostile conditions by the same lot previously. He mentioned about army's extended help for rescue and relief operation during the devastating floods in Srinagar which government found difficult to manage. Not only had this but Indian Army also saved some Pakistanis while rescuing 5000 Indians from war-hit Yemen is an evidence of their humanity.
In his speech Modi mentioned that India is one of the biggest contributors to the UN Peacekeeping Force. Around 1.5 lakh Indian soldiers lost their lives during the two world wars and the world should not forget this, he said.
Modi promised that the scheme of One Rank One Pension will be implemented in a phased manner since the economic burden is too huge to be implemented it in one go. He also said that the government has opened training institutes to promote skill development and employment for ex-servicemen for the first time.