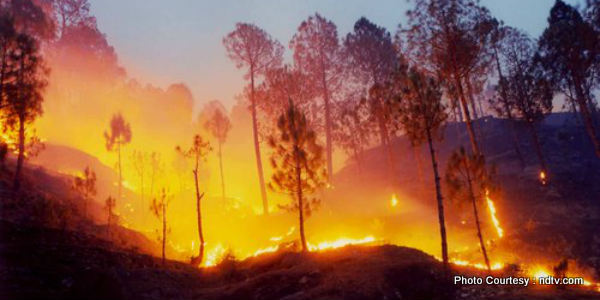 Forest Fire Alert System of Indigenous make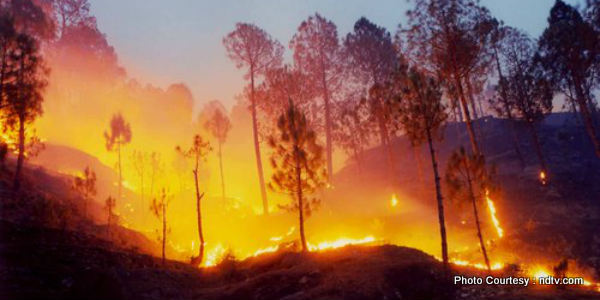 'Fire Season', isn't sound weird? When the weather is favorable for forest fires that period is called Fire Season. During Summer, incidences of fire takes place in forest.  There is a possibility of conflagration during February till end of June. Conflagration can take place anytime till rainy season.
Recently, a massive fire broke out in the reserve forest situated on the border of Theni and Virudhnagar district of Tamil Nadu. Many Trekkers lost their livesin this forest fire. Noting such incidences of forest fires, Forest Survey of India (FSI) developed a system of indigenous make namely 'Forest Fire Alert System Version 2.0'. This automatic system will help to receive the alert of Fire mainly during thenight time.
This Automatic system can help in receiving the alert of probable natural fire 10 to 12 week in advance. Forest fires can be prohibited or controlled if such advance notice is received. It usually takes time to get forest fire alert if fire breaks during the night. However, this alert system will help in receiving the immediate information of fire. It is expected that this will also help in sharing the fire information with all other departments and give the alert to public.
FSI in Dehradun works at 3 levels –
1) Near Real Time (NRT) – Forest Fire Alerts.
2) Forest Fires – EarlyWarning Alerts
3) Burnt Scars studies
Post Tamil Nadu fire incidence, the entire focus was on how to receive the information of fire at early stage. Every year there are several incidences of forest fires which results into a bulk damages. Fire causes harm to wild life as well as forest estate which results into financial loss. Therefore, this alert system will be useful to prohibit the incidences of forest fire.
Forest Fire spreads at large because of adverse weather and complementary fuel for fire available in forest. Though it is said that forest fires are natural, sometimes, they are man-madeas well. Some part of land is set on fire to cultivate good crops. This breaks out the forest fire. Setting honey comb on fire is also another reason for forest fire. Sometimes, man-made forest fires are created by lighting a matchstick in the forest area in order to do an encroachment on the forest land. Considering all such incidences, Forest Fire Alert system developed by FSI will be most beneficial to control forest fire.