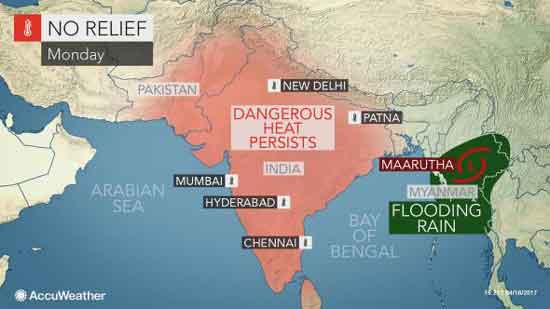 India bakes as flooding rains target Myanmar
Dangerous heat wave is continuing across India. Delhi airport recorded highest temperature this year at 43 deg C. The National Capital Region is enduring high temperatures of 43-44 deg C while the hottest locations in northwestern and north-central India face highs at or above 46 C (115 F).
Millions of residents and animals remain at risk for dehydration, heat exhaustion or heatstroke. People with outdoor activities should avoid strenuous activities during hot periods, drink plenty of water, take frequent breaks and wear light-colored clothing.
Expected relief from rains from this year's first named cyclone 'Maarutha' of the Northern Hemisphere did not materialize. 'Maarutha' weakened into a tropical rainstorm and made landfall on Myanmar's Rakhine coast on 17th April night; keeping the rains well south of India. AccuWeather Meteorologist 'Adam Douty stated that despite being nearby to India, the tropical system had no direct impacts on India and dangerously hot conditions across India will continue.
On the other hand Maarutha caused heavy rain and flooding across Southern and Western Myanmar.
Links : http://www.accuweather.com/en/weather-news/india-bakes-as-flooding-rains-target-myanmar/70001388