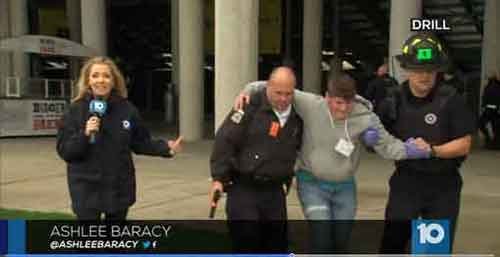 OHIO DISASTER RESPONSE DRILL
Emergency response agencies had planned a large-scale disaster drill in the city of Columbus in the 1st week of April, 2017 which was designed to better prepare the Officials for a potential disaster.
The drill included over  500 volunteers who were costumed to look like real victims with simulated wounds from guns and grenades. Men and women were seen running around with fake blood and fake injuries all designed to better prepare the police and  fire departments and hospitals in case of a potential disaster/ emergency.Disaster response teams require ongoing preparation and planning and cannot improvise during a disaster/ emergency. Therefore, Federal funds from ASPR, the Assistant Secretary for Preparedness and Response went to the Ohio department of health and $100,000 of that money was invested in training the disaster response teams to anticipate, Identify and manage potential disasters. This was also the largest disaster drill that was ever organized in the state of Ohio.
Reference Links:-
http://nbc4i.com/2017/04/04/ohio-disaster-response-drill-features-500-plus-fake-victims-around-columbus/
http://www.northwestsignal.net/news/article_71427743-3e80-5c2e-97ed-e1be08797b81.html