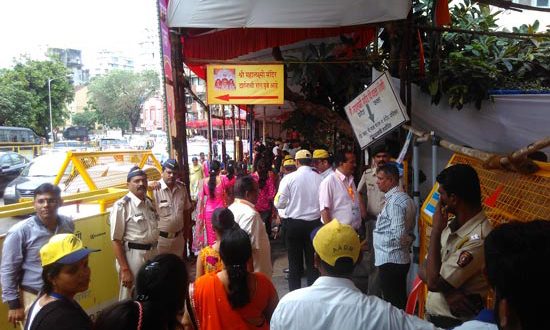 Navratri Seva at Mahalaxmi Mandir,  Mumbai
Since 2004, DMVs from AADM have been participating in the Navratri Seva at the Mahalaxmi Temple, Mumbai at the Temple's request.
It is a 10 day seva which begins on the first day of Navratri and ends on the evening of Dasshera.
This year i.e. 2016 about 2380 DMVs each day participated in the seva in 2 shifts ( 8a.m.- 3p.m., 2 p.m.- 10 p.m.)
The DMVs participated in managing the crowd of devotees and guiding them.
The medical / para medical team from AADM also participated in dispensing medicine if needed.
This year 2380 DMVs from 75 Aniruddha Upasana Kendras of Mumbai participated to make 'darshan' a peaceful and incident free occasion.