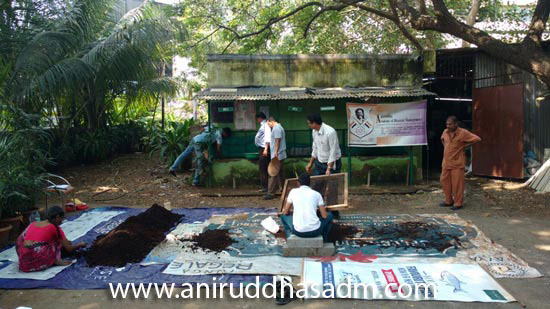 Vermiculture Seva  At Hotel Tunga International:
Since December 2015, the vermiculture project was restarted at Tunga at the initiative of one of Tunga,s employees who is also a Disaster Management Volunteer ( DMV ) at AADM. Hence AADM has been providing consultancy seva to the Hotel at its request.
To create an awareness and involve the management in the project, AADM volunteers initially  conducted introductory sessions on the importance of vermiculture activity to the management staff.
Under the guidance of AADM volunteers,  3 vermiculture sites were constructed at Tunga International (6x3x3ft ), Tunga Paradise (5x3x3 ft), Tunga Regal (5x3x3 ft).
Regular training by DMVs was provided to the gardeners to handle about 25 kgs. of kitchen waste.
Regular supervision is also provided on Sundays and other days by the DMVs.
Results : Today 950 kgs. Vermicompost has been yielded from the biodegradable waste. 
               Hotel Tunga is keen that the Project Vermiculture should be conducted on a long term basis.