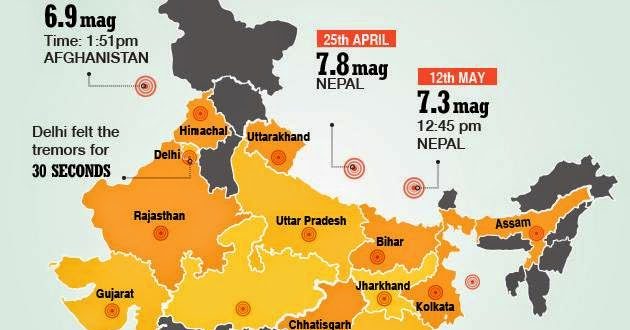 Nepal rattled by Second major earthquake of 7.4 magnitude
Bhaktapur, Nepal-   A series of earthquakes – measuring 7.4, 6.3, 5.6 and 5.2 on the Richter scale struck Nepal again on 12.05.2015 just 17 days after the devastating earthquake on 25.04.2015 killing 42 and injuring 1,117, the Nepali government said. The quake's epicenter was approximately 11 miles from Kodari close to Everest Base Camp on a border crossing from Nepal to Tibet, and 47 miles from the Nepalese capital of Kathmandu. These areas are close to Mount Everest in Ramechhap, which was evacuated after an avalanche triggered by the April 25 quake killed 18 climbers.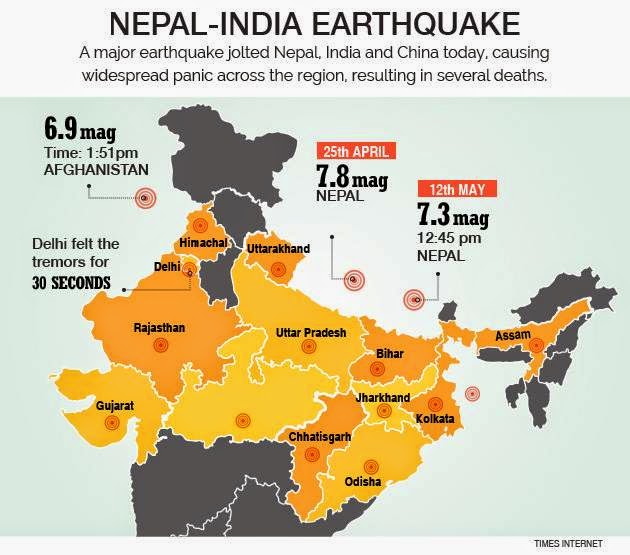 "According to preliminary reports, four people had died in the town of Chautara in central Nepal . Several buildings in the town have collapsed.  According to accounts on Twitter, the quake caused widespread panic and major traffic jams in the capital.
Strong tremors and aftershocks were felt in North and East India, including New Delhi, Srinagar, Amritsar, Guwahati, Lucknow and Jaipur. The Delhi Metro services were promptly halted in the national capital.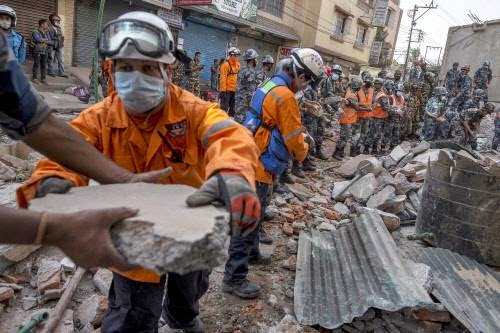 Home Minister Rajnath Singh told reporters in New Delhi that the government is prepared. "There is no need to panic. The National Disaster Response Force (NDRF) teams have been put on alert in Ghaziabad, Guwahati, Patna, Kolkata and Bhatinda," he said.
As per reports, 17 people have been killed in the earthquake in India, of which, 16 in Bihar, 1 in UP; 39 others have been reportedly injured.
Tuesday's earthquake comes after a 7.8-magnitude earthquake struck on April 25,2015  killing at least 8,046 people and injuring more than 17,800 and about 600,000 homes were destroyed or damaged in the quake.
Reference :-
http://indiatoday.intoday.in/story/earthquake-hits-india-north-india-nepal-epicentre/1/437554.html
http://www.abc.net.au/news/2015-05-12/nepal-earthquake-strikes-near-everest-basecamp/6464556 
http://www.dw.de/powerful-earthquake-strikes-nepal/a-18445287
http://www.usatoday.com/story/news/world/2015/05/12/nepal-earthquake/27161675/
http://timesofindia.indiatimes.com/Tremors-felt-across-north-India/liveblog/47245110.cms