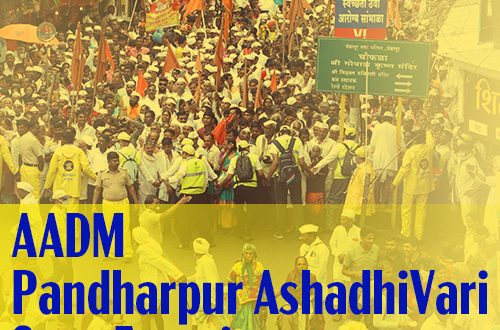 AADM Pandharpur AshadhiVari Seva Experience shared by our DMV – Devendrasinh Dongre.

Hari Om,
The day I had been anxiously waiting for finally arrived. Since childhood, I watched 'Ashadi Ekadashi Vari' on TV. Although I had seen it many times on TV, I never got to experience it in person. Only my 'VitthuMauli' knew what was going on in my mind for all these years.
The Vari had not taken place for the past 2 years. However, this year, with the grace of Sadguru Shree Aniruddha, I got the opportunity to participate in the Pandharpur seva of Aniruddha's Academy of Disaster Management (AADM) for the first time.
We left for Pandharpur by bus on Friday night and I was very happy to meet my fellow DMV's after such a long time. I would like to appreciate the planning and execution of all the Seva co-ordinators, pre-arrangement teams etc. as they had to plan the travel, accommodation and food for about 1200 DMVs.
Our group reached the seva location at around 9 pm as we were allocated seva in the 2nd shift. The crowd was not much until about 2 in the morning. However, after about 2.30 am, the palanquins (Palkhi's) started coming in and at around 3 am, the crowd grew enormously. Processions of various palanquins were passing in front of my eyes, which included palanquins of Sant Muktabai, Sant Gajanan Maharaj, Sant Tukaram Maharaj and others, and I got to witness them all. We assisted the police officials in managing the crowd as per their instructions.
I could see the immense discipline of the Varkaris. The sound of 'taal' and 'mridunga' still reverberates in my ears. The Varakaris had been walking barefoot for so many days at a stretch, that too in the rains, yet I did not see an iota of pain on their faces. Their attention was focused only on the 'Kalas' (Pinnacle) of the Vitthal Mandir.
After walking for fifteen or twenty days or even more, they had reached this place and were going to be able to take 'darshan' of the 'Kalas' for only about 15 seconds. Even then, the joy that I witnessed on their faces has filled my life with bliss.
The so-called 'White collar' attitude in our mind was easily torn apart by these rain-soaked Varkaris who performed 'Lotangan' on the wet road. Every Varkari exemplified how a devotee should selflessly love his God.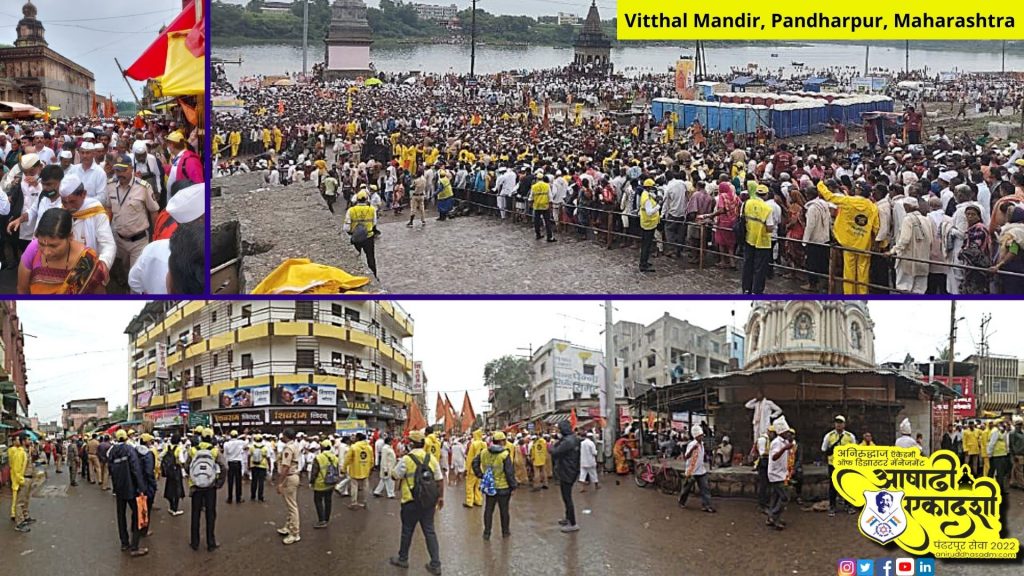 Some people saw Bapu's photo and greeted me with "Hari Om". At around 5.30 in the morning, when we were managing the crowd by forming a human chain of DMVs, an elderly person approached me and asked, "Mauli, how long have you been standing?" I replied that I was standing since about 9 pm and that the crowd was not much in the beginning but has increased now. To this, he asked whether my feet were aching. I said that looking at the Varkaris and Pandurang Vitthal makes the pain go away. The police officials also appreciated the AADM volunteers' seva by announcing it on the public address system several times. We were saying "Shree Ram" to Sadguru Aniruddha for giving us this opportunity. Earlier, I had wished that I should be able to do the "Vari" at least once in my life. If not, then I should be able to participate in the Ashadhi Ekadashi seva at Pandharpur organised by AADM. Not everything can be expressed in words. These are just wonderful moments one has to experience and stay devoted unto the lotus feet of 'Pandurang Vitthal'. The happiness that I experienced is only due to my Sadguru Aniruddha Bapu. He gave me this opportunity and it was only because of him that I could make the most of this golden opportunity.