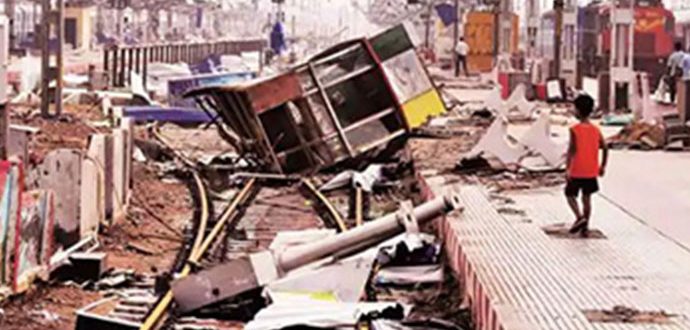 Cyclone Fani affects 1.7 crore people
Cyclone Fani has made landfall in Odisha on May 3rd, However, the impact of this cyclone was so powerful that the life of civilians has not returned to normalcy even after 5 days of the incident. This has posed serious challenges in the reconstruction work for local authorities. So far, the confirmed number of deaths is said to be 37.
Cyclone Fani has affected nearly 1.7 crore civilians. Moreover, it has caused damage to approximately 5.8 lakh houses, due to which millions of civilians have to relocated in the shelter camps. The cyclone has also majorly affected the basic infrastructure facilities. Several regions are still under darkness even after 5 days. The reconstruction work also involves setting up of 1.56 lakh electricity towers for supplying electricity.
The Odisha state government has urged the central government to help them reinstate the electricity supply and telecom services. The government has demanded 5000 skilled labour to start the electricity supply. Telangana government has sent 1000 proletarians to restore the electricity supply in Odisha. The mobile companies have also united in relaunching the telecom service.
The cyclone has severely affected the crops and also has taken a heavy toll on road transport as well. Overall, the Odisha government will have to spend 1 lakh crore INR for reconstruction and develop ground zero facilities. As the basic facilities in Odisha have been terribly affected by the cyclone, it has also emerged that the cyclone has affected wedding ceremonies. There were about 250 wedding ceremonies planned in Bhuvaneshwar in the days to come. But, those have also been affected due to the scarcity of flowers, fuel, transport facilities and availability of venues. Moreover, the scarcity of electricity supply is mainly responsible for such crisis.