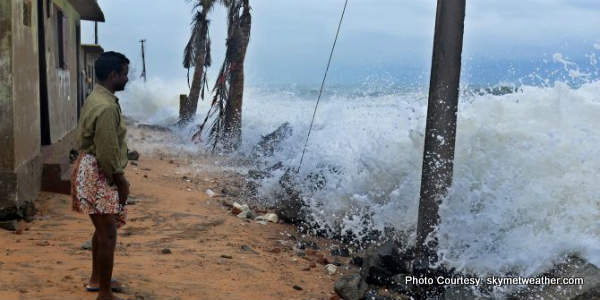 On 27th November 2016, a low pressure area formed north of Sumatra over northeast Bay of Bengal . It rapidly strengthened drifting northwest and was classified as a depression on 28th November by the Indian Meteorological Department (IMD).
On 29th November, the storm reached cyclonic storm intensity, and was assigned the name Nada, the third cyclone of the season.
'Nada' put Tamil Nadu on alert. National Disaster Management Authority (NDMA) teams and Indian Defense Forces were put on standby. Red flags were installed along the coastline and locals advised to stay away from the beach side. Authorities de-silted the drains to avoid flooding due to the heavy rain. Schools were asked to shut down in the state's Cuddalore and Nagapattinam districts and Pondicherry for two days. Fishermen were advised not to venture out to sea.
It is reported that this storm is responsible for 7 deaths in Tamil Nadu and another 5 in neighboring Sri Lanka. Damage throughout Sri Lanka reportedly reached 11 million rupees (US$1.7–2 billion). Nada brought heavy rainfall to the Indian states of Andhra Pradesh and Kerala.
It has only been a year since the Chennai deluge took place and memories are still fresh. A year ago the roads of Chennai were submerged in water, with rains wreaking havoc over the city causing it to come to a standstill.  The authorities were not in the mood to take any chances this year.
Links :    
http://www.skymetweather.com/content/weather-news-and-analysis/10-latest-developments-on-cyclone-nada-and-chennai-rains/
http://www.skymetweather.com/content/weather-news-and-analysis/fresh-low-pressure-area-in-bay-to-follow-nada/