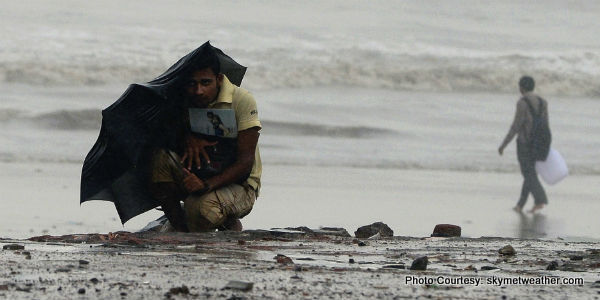 On the other hand cyclone Nada was a welcoming gift for people of Tamil Nadu who hadn't witnessed good rains for quite some time and dealing with water shortages.
Cyclonic Storm Nada though a relatively weak tropical storm, yet caused severe flooding in Tamil Nadu.  By 1st December it had moved quite close to Tamil Nadu,    Moving at a speed of 22 kmph, the system continued to move in west-northwest direction.  There were rains and thundershowers in several coastal areas of the state. Chennai  witnessed light to moderate incessant rains and thundershowers since 1st morning.
The proximity to land and increasing vertical wind shear caused Cyclone Nada to weaken in to a depression before crossing inland.    The weakening did not deter the system from continuing to give moderate to heavy rainfall and thundershowers over   parts of South Coastal Andhra Pradesh, Kerala and parts of Karnataka.   The system crossed over the coast near Nagapattinam on 2nd December, moving at a speed of 10 kmph and losing more strength gradually as it moved   westwards towards Kerala.  Remnants of the system continued to give light rain over Tamil Nadu, Kerala, Interior Karnataka and Coastal Andhra Pradesh.
Links :    
http://www.skymetweather.com/content/weather-news-and-analysis/10-latest-developments-on-cyclone-nada-and-chennai-rains/
http://www.skymetweather.com/content/weather-news-and-analysis/fresh-low-pressure-area-in-bay-to-follow-nada/