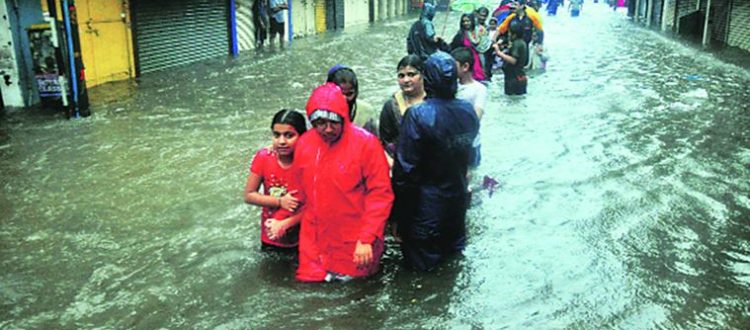 Flood in Nashik due to heavy rains
Nashik, situated  on the river Godavari, experienced  massive flooding  as the city received 231 mm. of rainfall 95mm more than the average in the month of August.
This sudden onslaught of rains has left district administration and residents  in jitters.
Unabated downpour which became intensive in the last 48 hours caused water logging in areas like Ramwadi, Bhandibazaar and Saraf bazaar areas.
The severity of rains was such that administration had to release water from nine dams in the district. As a result of this many bridges, old temples in old Nashik are submerged in water. The steps of the famous Naroshankar Temple near Ramkund  and many other religiously significant areas    of Panchavati are also submerged in water.
Likewise, on the advice of the irrigation department thousands of cusecs of water from Gangapur, Darna, Palkhed and other dams was released causing floods in Darna Kadva and other rivers.
Administration has alerted people in the vicinity of the these rivers to move to safer places . Two days holiday has been declared for schools and colleges.
In rain related mishaps a Dindori woman was crushed when her house collapsed. A student was injured  when the walls of the classroom fell on him. In Umarale village a couple has been washed away by flood waters.
Authorities have sought the  help of 300 Army jawans to meet any eventuality.
National Disaster  Respose Forces have rescued  26 persons including a baby in Karanjgaon  village.