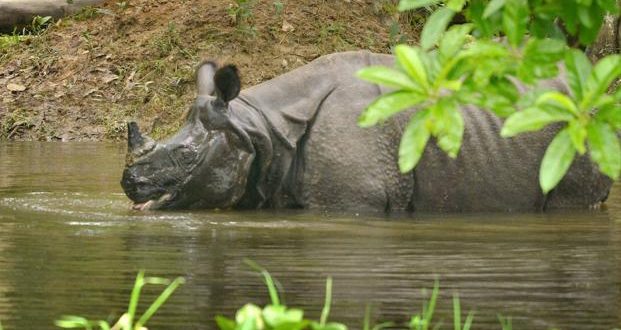 Floods in Assam as Brahmaputra rages
Heavy rains that lashed Assam state over last 7-8 days have inundated flood waters in the 28 of 34 of the state's districts affecting 16,68,865 people and forcing 1,12,856 people to take refuge in 472 relief camps as per ASDMA news. This year's floods in Assam have been the worst since 2004. The Chief Executive Officer of Assam State Disaster Management Authority (ASDMA) told that normally the upper Assam districts are most affected but floods have killed more than 34 people and more than 26 lakh people have been affected as the Brahmaputra and its tributaries swept away close to 3000 villages and submerged more than 2 Lakh Hectares of crops across the state.
According to the ASDMA officials, 21 districts — Lakhimpur, Golaghat, Bongaigaon, Jorhat, Dhemaji, Sivsagar, Barpeta, Kokrajhar, Dibrugarh, Goalpara, Tinsukia, Dhubri, Morigaon, Sonitpur, Biswanath, Darrang, Nalbari, Baksa, Udalgluri, Kamrup (M) and Chirang — have been reeling under floods due to heavy rainfall in the upper catchment areas of Arunachal Pradesh and Bhutan.
"With reports pouring in that flood affecting new areas, the ASDMA has opened a control room with phone numbers 1070, 1079 and 0361-2237011 for any assistance," the ASDMA officials said.
ASDMA observed that although the destruction of homes and crops can't be prevented from Nature's fury , the number of deaths have been comparatively reduced than last year due to early alert warnings issued 24 hours before flood strikes with 70 per cent accuracy. 
Considering the deteriorating flood situation, the Indian Army has been deployed in the Assam state. Nine Columns along with speed boats and engineer assets were dispatched to Golaghat, Jorhat, Bongaigaon, Goalpara and Chirang districts and so far nearly 2500 people have been rescued. Relief operations are still continuing. The NDRF have also been involved in rescue efforts in Assam.
Efforts are also underway to rescue animals from the state's Kaziranga national park, which is one of the last habitats of the rare one-horned rhino.
Wildlife officials said 80% of the park is under water and over 310 animals were killed since July 25 this year, including 21 rhinos and 221hog deers.106 animals were rescued during the devastating floods with help from local residents.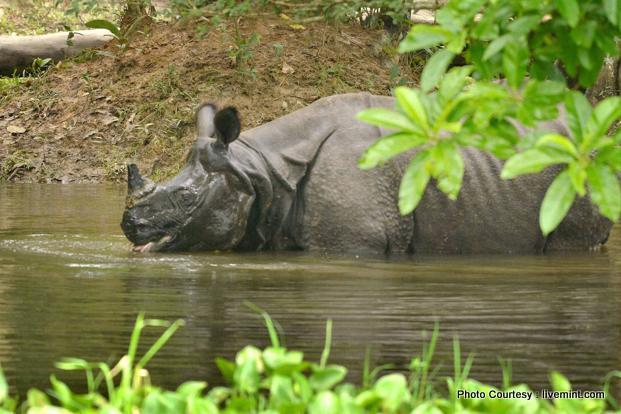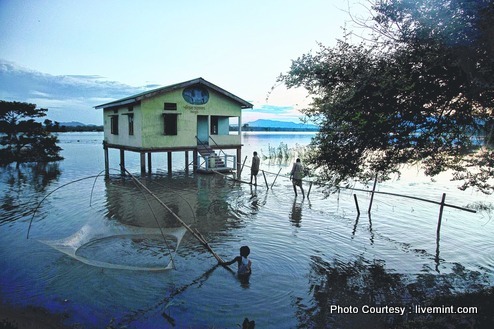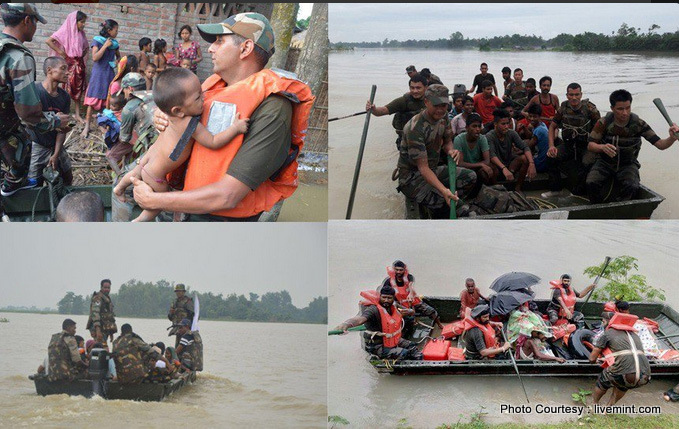 Refernce:
1.http://timesofindia.indiatimes.com/india/Over-300-animals-killed-in-Assam-floods-in-Kaziranga/articleshow/53509005.cms
2. http://www.ndtv.com/india-news/assam-floods-sarbananda-sonowal-sends-ministers-to-districts-1437470
3. http://www.telegraphindia.com/1160802/jsp/frontpage/story_100095.jsp
4. https://twitter.com/adgpi/status/759660103695872000
5.http://www.livemint.com/Politics/ojOJyhFzOVZAXdV6A5iJXK/Assam-floods-Eight-rhino-calves-among-107-animals-rescued-f.html