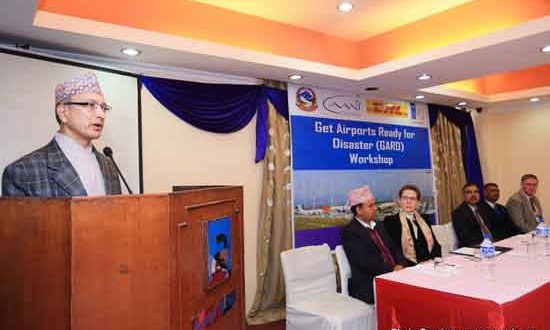 To build on experience learned after 7.8-magnitude earthquake struck Nepal in April 2015, the workshop was led by Deutsche Post DHL Group (DPDHL) and the United Nations Development Programme (UNDP).
Airport authorities, military and humanitarian partners will participate in Get Airports Ready for Disaster (GARD) workshops – a four-day training and assessment programme to develop a customized disaster response action plan at Nepal's two strategic airports i.e. Tribhuvan International Airport in Kathmandu and Nepalgunj Airport.
GARD workshop will be attended by more than 30 officials from government agencies and airports to allow participants and trainers to evaluate the current level of preparedness at the two airports.They will go through trainings, provide concrete recommendations and an action plan to ensure that Nepal's airports are prepared for future disasters.
The workshops will also raise awareness of Disaster Risk Reduction and identify priorities for investment in national infrastructure that could further improve the resilience of emergency supply chains during a disaster.
A clear and flexible action plan can help airport operators to minimize logistics bottlenecks and better manage sudden influxes of relief aid, bulky supplies like food, water and medical supplies, as well as NGO personnel entering the country.
To date, GARD workshops have been held at around 40 airports in Armenia, Bangladesh, the Dominican Republic, El Salvador, India, Indonesia, Jordan, Lebanon, Macedonia, Nepal, Panama, Peru, the Philippines, the Seychelles, Sri Lanka and Turkey.