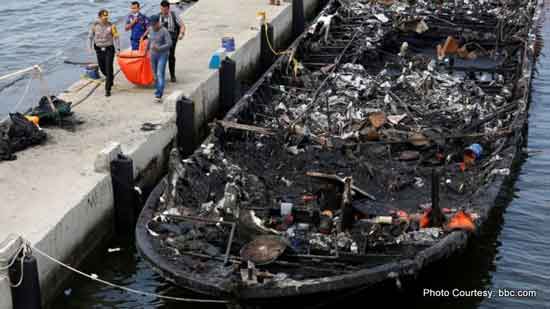 Indonesia: Ferry blaze off Jakarta kills 23
Fire on board the Indonesian ferry 'Zahro Express'; on way from Jakarta to Tidung Island Resort 30 miles away  with over 230 passengers ; claimed 23 lives and 17 persons are reported missing.
The fire started soon after departure, causing passengers to panic and start fighting for life jackets. Some ran to the decks and started throwing floats (lifebuoys) over the side. Many jumped in the water.
Denny Wahyu Haryanto, head of the disaster mitigation agency, said the boat was overcrowded with double the number of passengers. The official manifest listed only 100 passengers and 6 crew men.
The Captain was arrested for abandoning the vessel first even as passengers struggled to escape. 3 crew members and 2 port authority staff have also been detained.  
This means the ferry was ill equipped for the overload of passengers, with insufficient life saving aids such as life jackets and lifebuoys. The accident highlights inadequate training and the risk and hazard awareness of crew and authorities.  
Ferry's are key transportation means in Indonesia but have poor safety record and are poorly maintained.
Reference Links :
http://www.bbc.com/news/world-asia-38482839
https://www.theguardian.com/world/2017/jan/02/indonesian-ferry-fire-leaves-many-dead-missing
http://time.com/4620168/indonesia-ferry-fire-captain-detained/