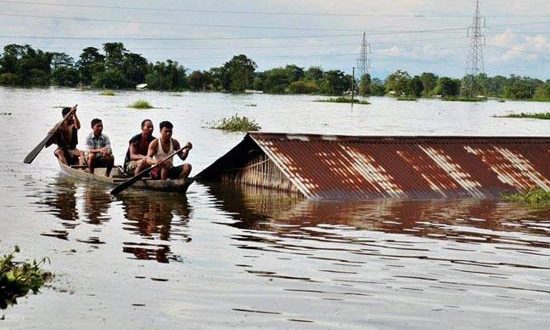 Flood Situation in Assam and Bihar (Part 1)
" Quite grim ! " says the Home Minister while on an aerial survey of Nagaon, Morigaon and Kaziranga the worst hit areas of the State of Assam.
In the last 72 hours, 19 people have died ; 18 lakhs have been displaced and 3,374 villages devasted by the deluge.
Nine rivers—- Brahmaputra and her tributaries— have crossed the danger mark. As a result, fear of inundation by river waters is high. Breaches have been reported in river 
embankments in districts of Kokrajhar, Jorhat, Dibrugarh, Bongaigaon and Golaghat.
Farmers in 22 districts are facing immense losses with crops and livestock destroyed.
Kaziranga National Park, a home to one horned rhinos, is several times worst. As 130 forest camps in different parts of Kaziranga are submerged in water, animals have been washed away. Elephants, rhinos , deer  seeking dry land run towards National Highway 37, only to get killed under a speeding vehicle.
Floods are a  recurring tragedy in Assam. Assam faces a deluge almost every year. Just about 3 months back pre-monsoon floods affected a lakh of people here. 
The Government has opened 517 relief camps and 186 relief distribution centres. That is but a saving grace!. A fear of epidemics is looming dangerously.
With houses submerged, boats have become homes to many. They sleep, cook and eat on the boats
The government says the rains in Assam have been unprecedented this year.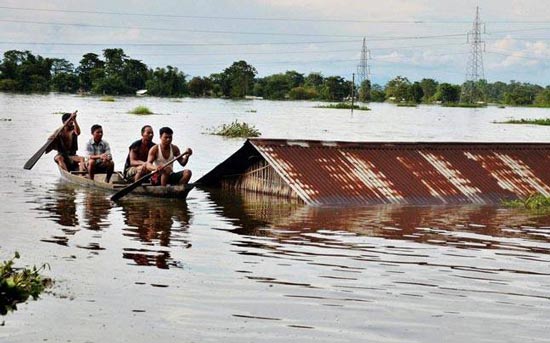 ref:
http://indiatoday.intoday.in/story/assam-floods-2016/1/727428.html
http://www.ndtv.com/cheat-sheet/floods-kill-13-in-assam-home-minister-rajnath-singh-takes-stock-10-facts-1438152
http://www.hindustantimes.com/india-news/assam-floods-eight-lakh-people-affected-across-14-districts/story-NKwOjJIHRh76dJlvwPYodO.html